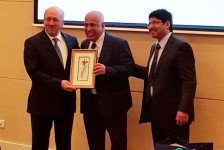 In coordination with the plan of the Kuwait International Automobile Club to support the governmental activities in the State of Kuwait and to encourage them to raise the efficiency of employees in the government apparatus, the club coordinated the General Administration of Customs and the International Union of Road Transport December 2017 and participated in this visit

Representing the Customs: Mr. Adnan Al-Gudaibi (Deputy Director General for Customs Ports Affairs), Mr. Majid Al-Qamlas (Head of Customs Affairs Office), Mr. Omar Khalidi (Legal Researcher of the Office of the Director General)
Mr. Essa Hamzah (CEO & president), Mr. Mohammed Al-Hamdan (Land Transportation Manager), Mr. Haitham Awad (Financial manager)
Mr. Rani Wehbe (Middle East's First Advisor in IRU)

Where the delegation held several meetings with officials of the customs sector and ports and (TIR) in the Republic of Turkey, most notably a meeting with the Deputy Director General of Customs in Ankara and Vice-President of the Federation of Chambers and Trade and Commodity Exchange of Turkey.
The delegation also visited the warehouses of goods received and issued in Ankara. The delegation then moved to the border city of the Turkish-Bulgarian border where he held a meeting with the officials at the customs port in Kebakoli to learn about the latest means of entering the trucks at the beginning of the Turkish-Bulgarian border.
The visit was successful and achieved many goals and the club is ready to cooperate with customs and other government agencies to improve the performance of work in it.