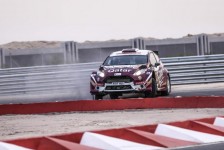 ARIFJAN (KUWAIT): Nasser Saleh Al-Attiyah cruised into a comfortable lead through the opening 2.3km super special stage of the Kuwait International Rally at Kuwait Motor Town on Thursday afternoon.
The Ford Fiesta R5 driver carded a time of exactly two minutes with the backdrop of a setting sun to move into a 4.1 second lead over Czech driver Vojtĕch Štajf at the start of the fourth round of the FIA Middle East Rally Championship (MERC).
Škoda Fabia R5 driver Štajf said: "This is my first time in the Middle East Championship and every event is new to me. I am here because of Nasser. We spoke in Shiraz last year at the Iran Rally and he suggested that I come and do the Middle East series. I spoke to my sponsors and we decided to give it a go. I still have a chance to win the championship and I will not stop until it is no longer possible. I will not let Nasser go to sleep…!"
Ten drivers were permitted to start the FIA event and another three Kuwaiti crews took part in a National Rally over the same route. Local driver Meshari Al-Thefiri headed the MERC 2 contingent with the third quickest time of 2min 08.4sec to take a category lead of four-tenths of a second over Jordanian driver Khaled Juma into the night halt.
Former QMMF President and FIA Vice-President Nasser Khalifa Al-Attiyah made an impressive return to the series after a 20-year absence to post the fifth-quickest time of 2min 13.2sec.
Jordanian driver Shadi Shaban was the first to tackle the super special stage and posted the target time of 2min 19.3sec – his run also marked the first FIA competitive action to be staged at Kuwait Motor Town race circuit since its inauguration in March.
Lebanon's Henry Kahy and Jordanian navigator Musa Djiyerian remain on course for the MERC 3 title after completing the stage in ninth place in a time of 2min 20sec. Oman's Abdulah Al-Ruwahi slipped to 10th place with a misfiring Subaru Impreza.
This year's event is being organised by the Basil Salem Al-Sabah Motor Racing Club (BMRC) under the chairmanship of Sheikh Athbi Nayef Jaber Al-Ahmad Al-Sabah and in conjunction with the General Authority for Sport and the Kuwait International Automobile Club (KIAC). Zain Kuwait is the main sponsor.
Earlier in the afternoon, Sheikh Athbi Nayef Jaber Al-Ahmad Al-Sabah had been joined by Zain Kuwait's Waleed Al-Khachti and drivers Nasser Saleh Al-Attiyah, Vojtĕch Štajf, Meshari Al-Thefiri, Nasser Khalifa Al-Attiyah, Henry Kahy, Emad Juma and Abdullah Al-Ruwahi at a packed pre-event press conference at Kuwait Motor Town.
Friday
Two runs through three gravel special stages are on the agenda for Friday. Teams open their account in the southern deserts with a run through the brand new KMT stage that spans 15.10km and gets the action underway at 10.00hrs.
The 18.22km of Nuwaiseeb (10.48hrs) and the 22.46km of the Al-Zour (11.41hrs) special are split by a remote refuelling stop before the return to Kuwait Motor Town for servicing and a regroup.
The three desert stages are repeated in the afternoon from 14.14hrs, 15.02hrs and 15.55hrs, respectively.
2018 Kuwait International Rally – positions after SS1:
1. Nasser Saleh Al-Attiyah (QAT)/Matthieu Baumel (FRA) Ford Fiesta R5 2min 00.0sec
2. Vojtĕch Štajf (CZE)/Ladislav Kučera (CZE) Škoda Fabia R5 2min 04.1sec
3. Meshari Al-Thefiri (KWT)/Nasser Al-Kuwari (QAT) Mitsubishi Lancer Evo X 2min 08.4sec
4. Khaled Juma (JOR)/Emad Juma (JOR) Mitsubishi Lancer Evo X 2min 08.8sec
5. Nasser Khalifa Al-Attiyah (QAT)/Nicola Arena (ITA) Mitsubishi Lancer Evo X 2min 13.2sec
6. Rashed Al-Nuami (QAT)/Hugo Magalhães (POR) Subaru Impreza 2min 13.4sec
7. Ihab Al-Shorafa (JOR)/Yousef Juma (JOR) Mitsubishi Lancer Evo IX 2min 18.7sec
8. Shadi Shaban (JOR)/Tarek Al-Taher (JOR) Mitsubishi Lancer Evo IX 2min 19.3sec
9. Henry Kahy (LBN)/Musa Djiyerian (JOR) Škoda Fabia 2min 20.0sec
10. Abdullah Al-Rawahi (OMN)/Ata Al-Hmoud (JOR) Subaru Impreza 2min 25.8sec
2018 Kuwait National Rally – positions after SS1:
1. Jassim Al-Muqahwi (KWT)/Tamer Al-Mutairi (KWT) Mitsubishi Lancer Evo VIII 2min 2min 29.9sec
2. Mubarak Al-Thefiri (KWT)/Mohammed Al-Thefiri (KWT) Mitsubishi Lancer Evo VIII 2min 30.0sec
3. Salem Al-Thefiri (KWT)/Fares Al-Thefiri (KWT) Mitsubishi Lancer Evo VIII 2min 34.1sec
Follow the Kuwait International Rally live: