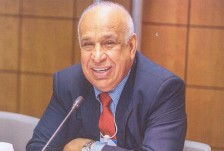 Essa hamzah alfailakawi of Kuwait automobile and touring club was elected chairman, while the vice chairman`s position was handed to abuObieda Mubarak elhaj of sudan automobile and tourism club.
The meeting was then given an update on ongoing CPD issue in Egypt and Jordan by scott sinfield of issuers Miller. According of an open dialogue with automobile and touring club of Egypt, but the situation in Jordan was presenting more difficulties
FIA services coordinator and acting council . secretary bjorn nordlund later explained that a new partner through countries for car services, was in the process of being appointed for Jordan.
With approval from the world council for automobile mobility and tourism being given in September of 2018 and with the appropriate legal documentation being received this week a contact is expected imminently .
Mr. Nordlund then presented the council members with an update on the development of the eCDP system. He revealed that while FIA accounting and dispatch modules still need to be developed, tests with 31 countries have now been
Completed and that last month successful real time testing had been carried out by five clubs in south Africa , the UK , Saudi Arabia , Norway and Switzerland.
The next steps, he added will include the development of terms of use for club contracts and the formulation of training schedules for CDP network clubs, which will be announced at the start of 2019.
Launch of the eCPD system is expected in late march of next year with the single CPD order and issuing method set to be available from 1 April.
The meeting was also updated on the provision of CPDs printed in Arabic. The documents, which will only be available in the middle east for operation between Arabic speaking countries will distributed in the first quarter of 2019.
Finally, the council agreed to an unchanged schedule of pricing for 2019