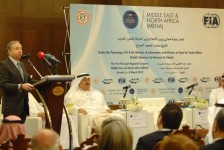 Kuwait City, 06 - 08 March 2015. Under the patronage of the Minister of Information and Minister of Youth, Kuwait International Automobile Club (KIAC) hosted the first FIA Sport Regional Congress for Middle East and North Africa.
The Congress was was hosted by KIAC at the Crowne Plaza Kuwait Hotel for 3 days period from 6 - 8 March 2015. President Jean Todd of the FIA and Deputy President Graham Stoker attended, Chairman of KIAC Mr. Emad Bukhamseen, President & CEO Mr. Essa Hamzah, Mr. Nasser K. AL-Atiya Vice-Prsesident and delegates from 20 countries in the region attended the congress.
To see the photos Click here.