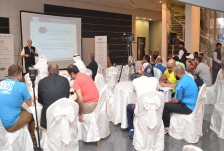 As part of KIAC efforts to develop motor sport in Kuwat, the Motor Sports Officials Training Seminar was held in cooperation and support from the International Automobile Federation (FIA) on 31 October and 1 November 2016 at the Sirbb Circuit.
The seminar was attended by Sheikh Athbi Nayef AL-Sabah, Chairman of the Rally Committee, Mr. Essa Hamzah, President of KIAC. 45 officials attended the 2 days seminar, safety in motor sports was the main topic to be presented during the training.
The training was delivered by FIA certified instructors.
KIAC would like to thank Kuwait Historic and Classic Cars Museum and Sirbb Circuit for their contribution in the success of the seminar.