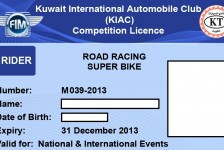 National Motorcycle Competition Licence is issued by KIAC under the authority of the FIM. International Competition Licences are issue by the FIM through KIAC.
To obtain a National or International Motorcycles Competition License, please complete the attached application form and submit it to KIAC.
Reguirements:
- Complete the attached form.
- Finish the medical test as explained in the form.
- Copy of Civil ID.
- Copy of driving license.
- One photoghraph.

Motorcycle Competition License Form
Download